PediGENE – DNA identification and canine parentage

In order to certify that your dog is a purebred dog, it must be referenced in the French Book of Origins (L.O.F). This book lists all French breed dogs.
This is now possible, thanks to technological developments, true a genetic analysis that determines the genetic profile and parentage of the dog. Indeed, DNA identification is the best way to get a dog listed in the L.O.F.
Animagène offers a solution to analyze your pet's genetic profile and perform parentage testing, and so confirm or deny the origins of your pet.
DNA identification and canine parentage process
Genetic identification begins with a simple mouth swab (painless) on the dog.
To do so, the Animagene laboratory provides a sampling kit:
a steril swab in a tube with a unique number
a sampling certificate
Thereafter, your veterinarian will authenticate the sample by performing it, as well as by completing the form (tattoo number, L.O.F of the parents…).
The sample is then sent to the Animagene laboratory which will perform the analyzes and establish your pet's genetic fingerprint.
Genetic identification performed by the laboratory is done using a panel of microsatellite markers (called "Primers") recommended by the I.S.A.G. (International Society for Animal Genetics), panel which provides the basis for genetic identifications made aoround the world.
Table of results example on 5 markers:

Here, male and female have both already been registered in the L.O.F.. In order for their offspring to be in the L.O.F., a parentage test is mandatory.
The test, presented below as an example, confirms the parentage between these three animals. The puppy is therefore a purebred dog.
In detail, the size of the sequences in basepairs (pb) were found as shown through the peaks below: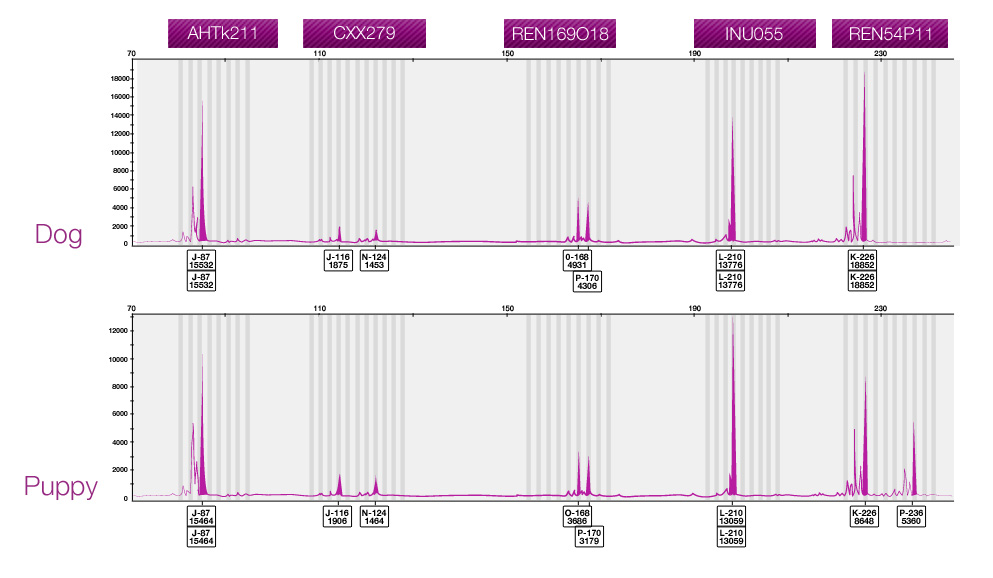 This dog is homozygous for the INRA 21 microsatellite marker and heterozygous for the AHTk 253 and FH 2054 markers.
The analysis will focus on 22 microsatellite satellites markers that determine sex (Amelogenin), these results will be called DNA fingerprints or genetic profile.
The genetic fingerprint analyzed is unique to one dog.