HyGENE – Dog waste management through DNA

Principle
To identify a dejection, the genetic profile obtained must be identical to the dog's genetic profile after comparison.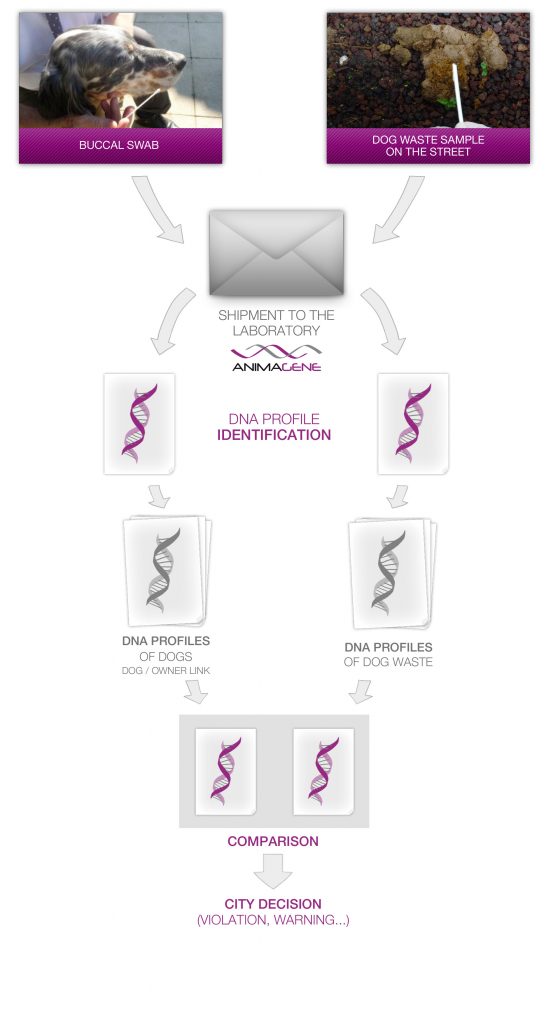 Process
DOG DNA ANALYSIS
Buccal cells are taken on the animal. This sample is sent to the laboratory for analysis of the genetic profile.
The genetic profile is determined from the analysis of STRs located at 11 loci, the SRY region allows gender identification.
Dog waste analysis
Dog waste (8 days maximum) are collected by city services and placed in a suitable container.
A form is available with the kit (location, date, …) is filled and sent to the laboratory.
The laboratory analyzes the DNA extracted from cells coming from the dog waste, in order to establish a canine genetic profile.
Profiles Comparison
DNA obtained from dog waste is compared to the DNA of dogs identified beforehand. Results are sent to the city mayor and / or other service.
Protocol
SUPPLIES NECESSARY
For more information or to get one or more free sample kits:
The sampling kits will be sent to the specified service of the City.
Dog waste sampling kit
The contents of this kit will depend on the City's wish regarding the dog waste sampling and conservation method before it gets picked up by a carrier.
For example: Using a sterile glove, the agent will take the dog waste and place it in a plastic bag. It will be stored at -20°C if possible. The information form will be filled.
The buccal cells sample kit includes


2 sterile swabs
1 sample certificate
1 order form
BUCCAL CELLS SAMPLE
The veterinarian rubs the dog's gum and cheek during 20 seconds in order to collect cells from the surface of the mucous membranes (note that saliva does not contain cells therefore DNA). This buccal swab is quick, easy and painless: download the manual.
This sample must be certified by the veterinarian: download the sample certificate.
This sample certificate indicates:
the swabs number
the dog reference (parent name, identification number)
the owner's information
the veterinarian's information
The sampling can also be done at the laboratory:  view our access map.
SHIPMENT OF THE BUCCAL CELLS SAMPLE FOR ANALYSIS
If the veterinarian can send buccal swab on the same day by mail, we recommend placing it in the refrigerator until shipment.
Your veterinarian will send by mail (normal post):
the buccal swab certified by the veterinarian
the sample certificate filled, signed and stamped by the veterinarian
the order form
your payment
The genetic analysis will only be performed if the sample certificate is complete and if the payment is done.
SHIPMENT OF DOG WASTE
A shipment system through a specialized carrier will be available with the city's approval.
Price
Pricing will depend on the service provided.